This Cake Mix Mug Cake recipe isn't really a recipe. It's directions for magic. With just three ingredients, you can make an individual cake in a mug in only one minute using the microwave! This fluffy treat is instantly ready whenever a snack attack hits. Customize your cup of cake with some candy, chips, or fruit bits and the mug cake variations are endless!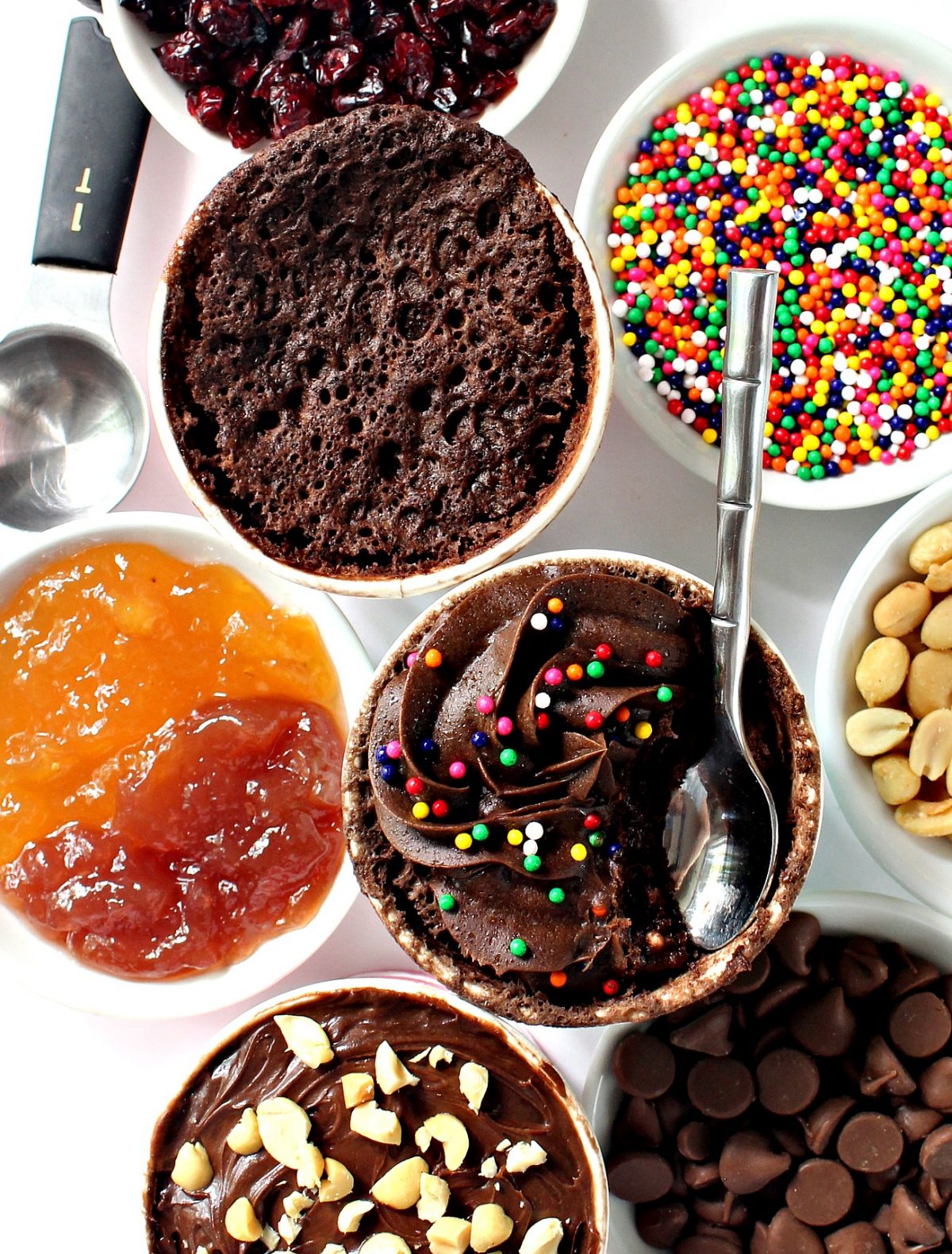 When the directions for this 321 cake appeared in the food section of our newspaper seven years ago, I had to give it a try. I was amazed by the results and shared the fun recipe here on The Monday Box in March 2013.
I thought microwave cakes would be a onetime novelty, but I was wrong! This post has been wildly popular and inspired many additional popular recipes like Molten Lava Mug Cake and Piña Colada Mug Cake.
Mug cake recipes on The Monday Box are unique because they are made with only shelf stable ingredients. That means the ingredients can be sent in a care package (or kept on your kitchen shelf) for whenever a snack craving hits!
Subscribe to The Monday Box!
Ready to bake? Join the free membership group to get new recipes and a newsletter from The Monday Box delivered straight to your inbox!SUBSCRIBEI consent to receiving emails and personalized ads.
They are the perfect care package treat for anyone with a sweet tooth and access to a microwave, in other words, most college students and deployed military service members. Many of the recipes use add-ins that are safe to mail, even to hot desert deployment locations.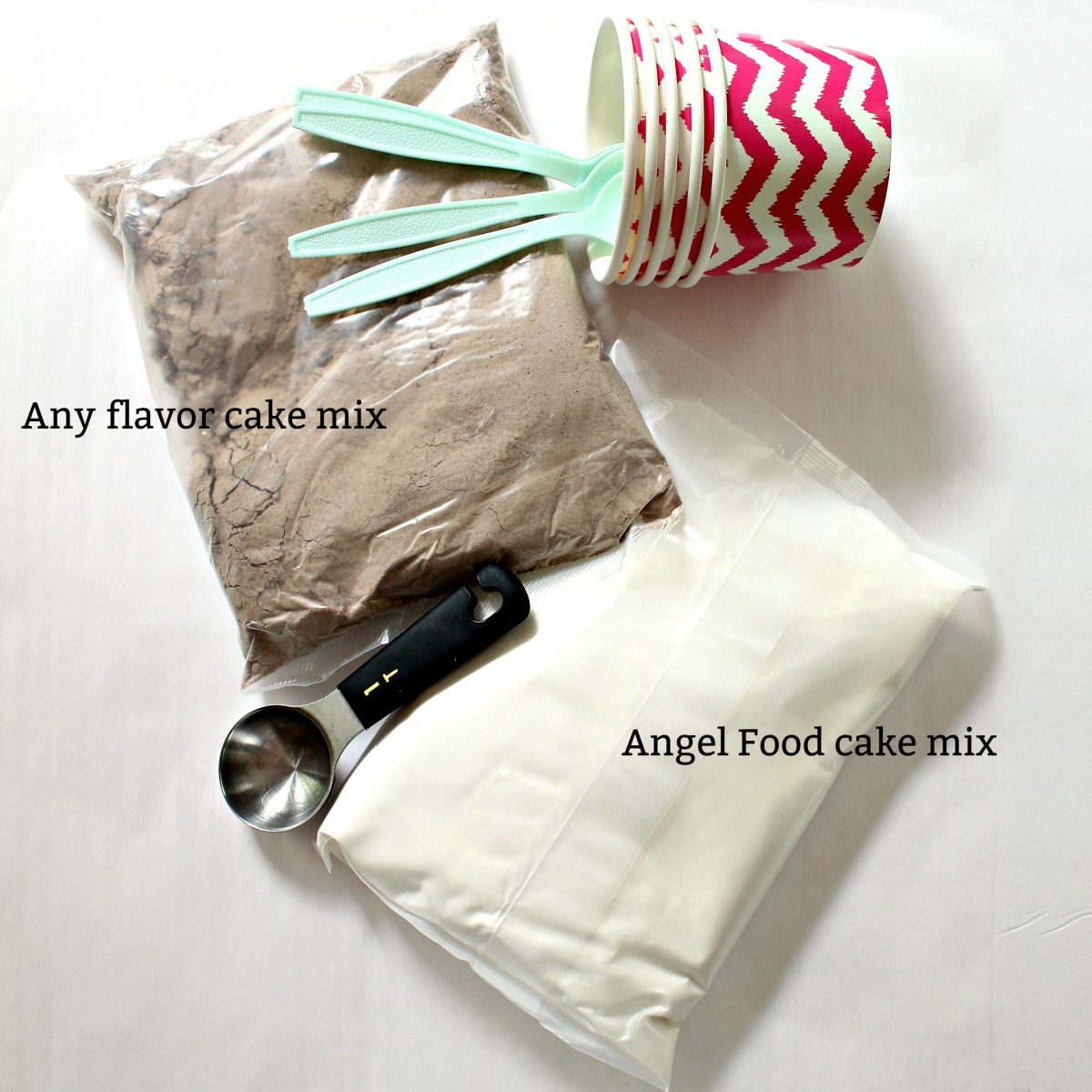 The numbers in the 321 mug cake name come from the proportions of ingredients used. All that you need is mug cake mix (made with one box of angel food cake mix combined with one box of flavored cake mix) and water. Combine 3 tablespoons of the mix and 2 tablespoons of water, then microwave for 1 minute. 3-2-1! That's all!
Directions
Use a permanent marker to label a gallon size ziplock bag with the name of the mix and the simple 3-2-1 directions.
To make the mug cake mix, pour one package of flavored cake mix and one package of Angel Food cake mix into the prepared ziplock bag. Seal the bag and then shake until the two mixes are completely combined.
To make a cake, use either a microwave safe paper cup or a mug. If using a mug, lightly coat the inside with non-stick spray. The spray makes clean-up easier.
Add 3 tablespoons of mug cake mix and 2 tablespoons of water. Stir to combine.
Mix in 1 tablespoon of add-ins, such as syrup, chips, or jam.
Microwave on high for about 1 minute. Each microwave is different. Watch your cake carefully so that it doesn't over cook.
Remove from the microwave and allow the cake to cool for a few minutes before adding frosting and sprinkles.
Mug cake tips
Add-ins provide additional flavor and moisture. Follow the directions for one of the many mug cake recipes here on The Monday Box, or make up your own!
When sending mug cake mix in a care package, I highly recommend sending paper cups/snack bowls. College students don't like to wash dishes and aerosol cans of nonstick spray can't be sent in airmail military care packages.
Using nonstick spray on reusable mugs will make them much easier to clean after cooking a mug cake.
Don't fill any mug more than half full to avoid overflowing. An 8 ounce cup is the smallest container for this recipe. Adding additional ingredients, like chips or syrup, increases the amount of batter and requires a bigger mug.
Eliminate the spongy texture often found in microwave baking by adding extra moisture to your cake (and delicious flavor) with 1 tablespoon of syrup, jam or condensed milk.
To make a cake more chocolaty add a tablespoon of chocolate syrup or a tablespoon of cocoa with an extra teaspoon of water.
Watch your first mug cake carefully for doneness. Each microwave is different and your cake may take a bit more or less time than indicated on the recipe.
Microwave cakes cook instantly and are meant to be eaten instantly. They are not meant to be stored and eaten later.